Clinic & Personal
Our clinic, located in the heart of Riga, features the latest dental treatment technology, a dedicated experienced team of dentists backed by world class laboratory and materials support.
Every patient receives the highest quality dental care in a comfortable, relaxed and ultra-clean setting. Rest assured, the only difference between Baltic Dental Services and your hometown dentist is the price.
Our focus is always on your unique requirements to achieve a bright and beautiful smile
Dental Services
At Baltic Dental Services we offer a full range of cosmetic procedures such as dental implants and teeth whitening; corrective orthodontics like invisible braces; and general dentistry such as root canals, fillings and extractions.
Plus, convenient evening and weekend hours combined with lightning fast dental lab work means less time away from home.
For tooth replacement, restoration or repair, at Baltic Dental Services you are our valued patient, in expert professional hands.
Read more →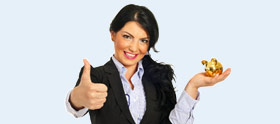 Prices
At Baltic Dental Services, we believe you should be free to choose the dental clinic offering the highest quality care at the lowest cost, no matter where you live, no matter who you are.
As an affordable alternative to expensive Western dentists we clearly understand the concerns of the cost conscious patient, and make this solemn promise:
"We will never compromise the quality of our care and our patients' dental health for any amount of money." - Dr. Olga Galkina
Read more →
Why Baltic Dental...
— Low Affordable Prices

— Hi-Comfort, No-Pain Policy

— Modern, Ultra-Clean Clinic

— Open Evenings and Weekends

— Free Exam and Consultation

— Courtesy Airport Transfer
Customers' reviews
"I've always been afraid of dentists, but Olga was extremely careful with my sensitive gums...there was no pain, not even a twinge...the treatment lasted less than an hour. It was great."
Karen, Liverpool
During my first day in Riga I desperately needed help with severe tooth pain and Dr. Galkina was able to see me immediately, and it was Sunday! It really saved my trip. Thank you!
Martin, Gothenburg
I don't have lots of money to spend on my teeth. Baltic Dental has extremely low prices when compared to Norwegian standards... I saved enough to pay for some nice shopping while in Riga.
Irina, Oslo